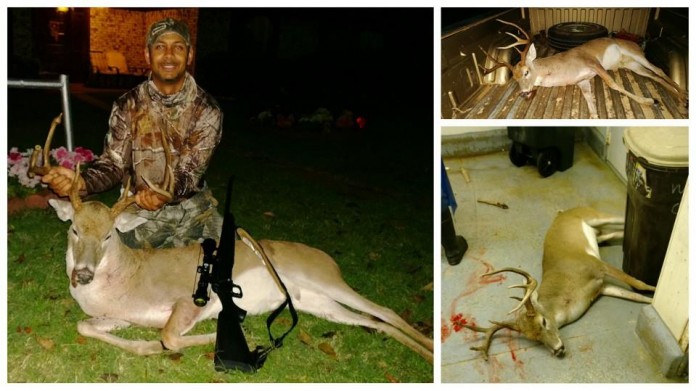 The 2013 hunting season started for me in October with archery season. I hunt on family land in a small East Texas town. I faithfully put my Wildgame Innovation Game Cameras out in places I know deer travel regularly. I was hoping to catch a glimpse of Zeus, a large buck I'd been tracking for 2 years. I was thrilled when I actually saw Zeus on one of the game cameras toward the beginning of October! He was definitely back! Unfortunately, in spite of being prepared with my Bear Charge Compound Bow, Flextone Bone Collector Buck Collector Deer Call, and Black Rack antlers, I didn't see anything at all that month…including Zeus.
The month of November quickly arrived and, like all hunters, I was anxious to get in my stand on opening day! I washed my hunting clothes in Scent-Away and all my hunting gear in order before I went to bed, set my alarm for 5:30a.m. and was completely ready for Saturday morning. You can imagine my surprise when I woke up at 7:15a.m…running late! I refused to let that stop me though! I threw on my clothes, grabbed my Remington 770 .30-06, and ran out the door. I made it to my stand by 7:30a.m. – bumping a doe along the way, as well as three bucks from under my stand- but that was okay. I hastily climbed into the stand and pulled out my grunt tube and rattling horns. I hit the horns together and let out a buck growl. A huge 8pt buck ran back to the tree directly under me looking for the fight. He looked up and saw me, blew and ran away. I grunted again and stopped him about 50 yards out. I raised my rifle to shoot and…CLICK…nothing happened. In all the excitement of getting to the stand late, I hadn't put a bullet in the rifle and potentially missed my chance to get an 8pt for the season. It all happened so fast and I was just praying that it wasn't Zeus. That morning was all it took…I was in the grips of Buck Fever and getting that big 8 was all I could think about!
Two weeks later I was back at it. The weather was very humid and warm for November. I had gone out early the morning of the 16th, but didn't see anything. After sitting in my stand for several hours I decided to leave the stand around 11:45a.m. and went back to my parent's house. I checked my game cameras and saw a nice 8pt that appeared to be posing for me- little did I know it was Zeus. That afternoon something was telling me to go back out, but I don't usually go out in the evenings. Like they always say, you can't shoot a big buck if you're not in the stand when they walk by! My hunter's intuition was screaming so I finally went back out around 4:15p.m. I made it to the stand about 4:20p.m. I sat for quite a while and actually dozed off several times. After sitting and seeing nothing for almost an hour I decided to head back home. As I was getting my stuff together, I looked out and there he was. About 35 yards out from my stand stood the buck from my game camera walking by slow. My heart started racing! I slowly took aim and shot. GOT HIM! All I could think was BBD…Big Buck Down! I hurried down from the stand and, to my delight, there wasn't any ground shrinkage! To make this moment even better the deer that was now lying at my feet was Zeus, the huge buck I had been after for the last 2 years. I can't even begin to describe that feeling. I could only stand there and thank God for putting me in my stand that evening.