The world of digital night vision has taken off in recent years, with new products being revealed from various manufacturers on an almost monthly basis. Various options are available from the budget dedicated end like the Yukon Photon up to the higher spec Armasight Drone Pro, then there's the add on market the likes of home builds, Nite-Site products and Wards offerings. This review is on the Ward 700 night vision add on, a very versatile unit, with many benefits over other units. The Ward 700 is around 100mm in length as a unit, but the way it is designed utilising a prism system means it only adds 67mm to the length of your day scope, this makes it very compact and also means it has minimal impact on your shooting style or eye relief, which many other adds ons can cause problems with, requiring additional butt pads or modifications to get a comfortable hold or cheek weld.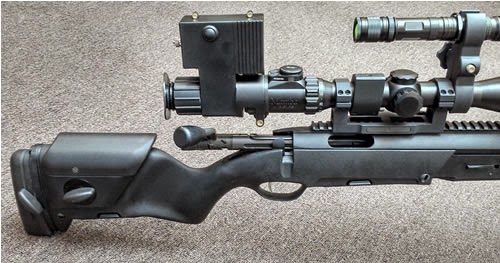 The ward contains its own power supply within the unit, which lasts around 6-7 hours from a full charge, more than enough to accommodate a full nights shooting, this is charged via the dual purpose socket, which also doubles as a video out when recording footage from the unit with an MPR. The Ward has an integrated 640×480 LCD eye display which provides a crisp image through out the mag range. On the right side of the unit, there is a silent power on and off button and there is also dioptre adjustment via a small thumb wheel housed under the rubber recoil eye piece, which can be removed if required, when using a recoiless rifle. The unit has a built in clamp which clamps using shims around various diameter scope ocular lens. The Ward 700 comes supplied with a 240v charger to charge the unit and various shims to suit different rifle scope fitting.
Some benefits of using a rear add on over dedicated digital units, one of the biggest being the ease of swapping from rifle to rifle if required, one night on an air rifle, the next night your .223 foxing setup, within seconds. Secondly the ability to zoom from 4x mag right upto 20x mag if using a powerful enough IR illuminator, this makes it very versatile as you can scan and spot on a lower mag, then wind the unit up for precision shooting, unlike fixed dedicated units. The unit also has other benefits over the likes of screen based add ons, as an example.
Positive Points
The ward offers a natural shooting style using inline eye display unlike a screen based product, which is not a natural shooting position, it also only adds 67mm to your scope.
The eye display does not cause glare, which can alert your quarry like a screen based add on can.
There are no trailing wires to snag anywhere, no clunky external battery, no screen mounted on the scope making things cumbersome.
Negative Points.
The eye display is not adjustable, which can cause it to be too bright.
The power button is quite easily knocked causing the unit to end up flat, when you turn up at your shooting venue if your not careful.
Being a rear add on like all digital add ons it requires more IR light than your typical dedicated digital unit, so to get the best from it, I'd recommend an AS based IR like a TR50  or TR67 from Ludicrous Lumens or the Starlight Dragonfly laser which will get you a long way out if foxing at higher mags.
As of May 2016 a new Ward 800 has been announced, which features integrated brightness adjustment via a thumb wheel, this also helps prevent the power button being inadvertently knocked. Also the eye display has now been uprated to a 800×600 display and the camera changed for a higher resolution and more efficient one. Available to buy here. http://www.nightvisionstore.co.uk/ward-d-vision-700-digital-night-vision-c2x14686536 Visit Night Vision Zone Forum