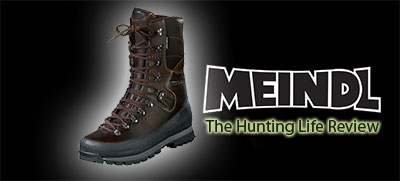 Well what can I say I've tried various hunting boots over the years, from brasher, lowa, le chameau, etc and the meindl boots provide a quality boot with a german heritage that shows there all round build quality and comfort. The dovre are ideal for stalking, beating, and most shooting sports that require a robust, sturdy boot that supports the ankle preventing injury and helping stabilise any other ankle issues with their stout and high ankle support.
In terms of waterproofing the boots feature a leather outer with a genuine Goretex internal lining, they provide excellent water resistance, keeping your feet dry and most of all warm regardless of weather and conditions.
The sole consists of the legendary vibram sole which manufacture soles for all the leading brands of boot and shoe manufacturers around the world, they use these simply because the are the best available bar none.
Treating and maintenance of your boots should be done regularly, like any boots they require the leather to be waterproofed and nourished if they are to last a long period of time. After use always clean off any mud and allow the boots to dry in a cool and dry area, away from any heat sources be it a radiator or direct sunlight, keep them away from these as the leather will dry and crack.. When the boots are dry, treat with a waterproofing spray to aid the water repellancy of the leather and also use a nourishing wax to soften and feed the leather to help it remain supple and rehydrate the skin.
As a summary everyone has there own choice of boots they choose to wear for hunting outdoors, for myself the meindl dovre provide the best support and comfort available, for stalking, moorland/crag shooting and gamekeeping in general.
Supplied with a fool proof guarantee from there UK distributors Bramwell International.