Hi every one
After two months of deciding which rifle .22 /.177 to put my night vision scope on, I have settled for the .22. I haven't used this unit for a while, after a zeroing session last night.
Well let me start by saying I have forgotten how much fun it is to use, I got to the business park about 9:00pm got me zeroing target out and paced out 25yds, then put me light on and checked it with the range finder, and it was spot on.
As I was walking back to the car I see 2 bunnies's having a graze, so slowly back to the car as not to spook them, I couldn't use the AAS410K because I hadn't zeroed it in yet as it has the NVunit on it . so I grabbed the HW100KT .177 and slowly made my way under a old oak tree which was heavy in bloom, so nice and dark under there and plenty of cover. Down on one knee and was watching then for 5 minutes before I
THWACKED!
the first one, and its mate done a runner to the top of the small hill. I could just see its ears so gave a little squeak! And it ran forward by about 10 yds, right in line with me cross hairs
THWACK!
The last bit of grazing it will be doing.
Here is a pic of the grazing twins
So anyway back to getting me NV unit zeroed which didn't take long, about 10 clicks left and 6 down. After that I was hitting the target spot on so was really happy, so with fresh batteries in the unit and in the added IR I went to have a look around. So of up to the top of the park, and just sat and waited. It wasn't long before the third bunny of the night was wearing a lead earring and down and out.
Then I went over to the front of the park and had a look around and out at 30yds there were 2 of them just sitting there because they heard the car, and was alert and waiting for there earrings, so on goes the unit and a quick look again and 2 black silhouettes were still there, second click and the built in IR came on and I could see there red jewels. So in concession
THWACK! THWACK!!
Jewels no more it was. It's great because you hit one and the other just crouches because it can't see a lamp and doesn't know what is happening. Hence giving you the opportunity to take it at your leisure lol.
Now on to another part of the park the middle, where the advertising bill boards are, because there is a main road about 20yds, but im in the car park another 30yds away. And I could see 2 out under a cherry blossom tree, so I watched these 2 for a half an hour to wait if they had come closer. But it was not to be, so with all the rain we have had lately the ground was soaking, and I had to crawl 20yds to get in range and I was soaked but worth the crawl as I
THWACKED!
One the other this time legged it, but as I went to pick the other up. As I always do move really slowly in case it hasn't gone far, so picked it up and had a look over the ridge and there it was got my self under the tree and lent on a branch turned on the NV and
THWACK!
It was doing a backflipp and landed with
DEAD!!
Accuracy from were it jumped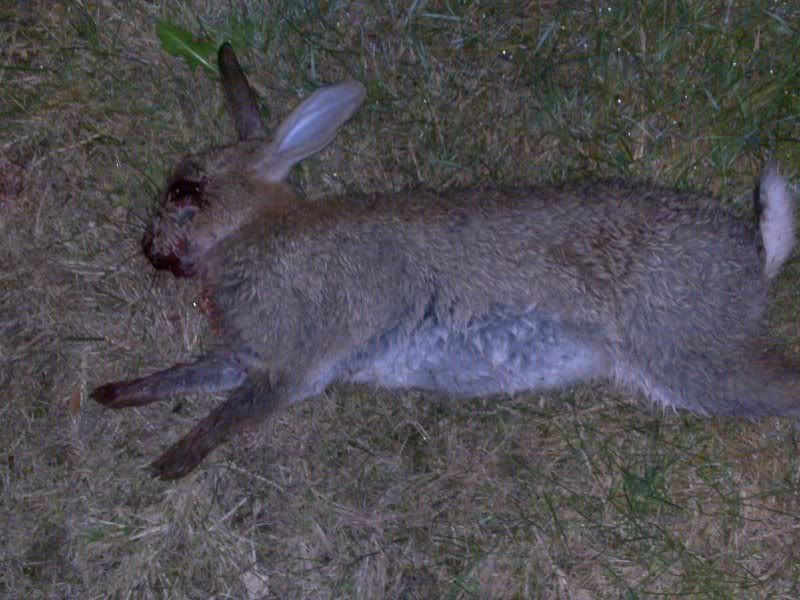 Now on to the balancing pond at the rear of the park, I had a pan round with the unit on and nothing, so went over the ridge and there were 4 of them just sat there grazing, I slowly got into prone position, had another look and every thing was ok. 5 minutes later breathing under control and the unit back on
THWACK! THWACK!
& THWUCK got 2 of them and missed the turd damn! So all in all a very good evening with the NVunit well and truly zeroed .you watch I will go again tonight and blank it never mind but I am
Looking forward to going out to Oxfordshire later this evening with Charlie
Here is a group photo with bag and AAS410K & NV UNIT .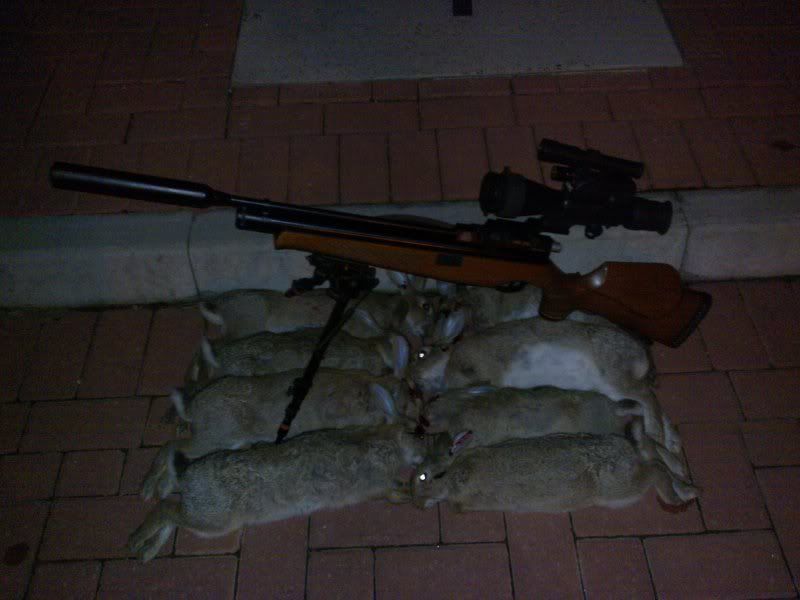 happy hunting
Davy