After having a few problems with welly's not lasting me that long i decided in November 2006 after months of looking on the internet at various boots and peoples opinions on particular makes of quality made boots to invest my hard earned cash into a pair of The Gamekeeper MK6 boot from Altberg Bootmakers in Yorkshire, which were £180.00.
The first thing i noticed when they arrived and i tried them on was how small a fit they are, they are a very small fitting, they were then sent back and i decided to try a size 9, when they came back, i tried them on, wore them around in the house for a good while and decided they were ok, after wearing them for a few weeks i noticed that after they had got wet and then dried back out (and not near any heat source) they started to get a bit tight, more so on my left foot as this is slightly bigger than my right, so i started wearing thinner type socks than i normally wear which improved matters very slightly.
A couple of months on the leather in them seemed to be shrinking as my toes were staring to curl up in the front of the boots, especially when walking downhill, i then had to take out the insoles in them to make some more room for my feet.
These boots were very well looked after by me from day 1, as soon as i got in all the muck and debris was hosed off them and they were treated regularly with Kiwi polish and a good quality leather wax which was reccomended by Altberg, in May 2007 while i was cleaning the boots i noticed on one of the boots that the stitching had all come undone on the front part of the boot, so i cleaned them all up and sent them back to Altberg explaining to them how the leather in them had seemed to have shrunk, and the stitching had come undone, after about a week i spoke to an Altberg representitive on the phone who said i could have £100 cash back,(they came to this conclusion because they reckon i've had some wear out of them) or they could put the boots on a last and steam them to make them bigger, after shelling out £180, i wasnt going to accept £100 back, so i decided to get them repaired.
When i got off the phone, i thought to myself he didn't mention anything then about getting that stitching repaired, so i just took it for granted that it would be sorted, after about an hour i rang him back, to speak to him about it and he said, i was just going going to ring you now, he said i've had a word with my boss and at the end of June 07 theres a brand new design of Gamekeeper boot coming out with a one piece leather at the front of the boot, we will be willing to send you out a pair of these if you will keep us informed every few months what you think of these new boots, and then you wont have to worry about that stitching, so i agreed to try a pair of them.
They arrived at the end of July after there being some problems in Italy (The Gamekeeper Boot is made in Italy) ~ i had a size 10 this time for fear of them shrinking again, they were a slightly different design to the last pair with regards to the cut of the leather, and instead of a piece of leather sewn into the boot over the lowest part of the tongue, these new ones were just a one piece leather.
What they wanted was feedback from me on how these new boots performed out in the field, so after having them for a few weeks, i decided to see what they were like in the wet weather, after treating them all over with a good quality leather wax they were then tested out a few times by walking through sodden wet grass about 4 - 5 inches high and given a good soaking, to my suprise and extreme dissapointment, the water penertrated through them, these boots are now selling for £189.99
These are the first pair i had here,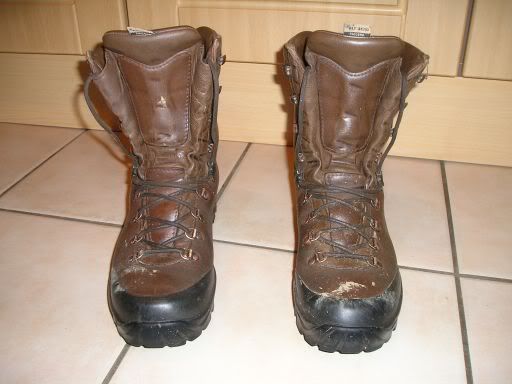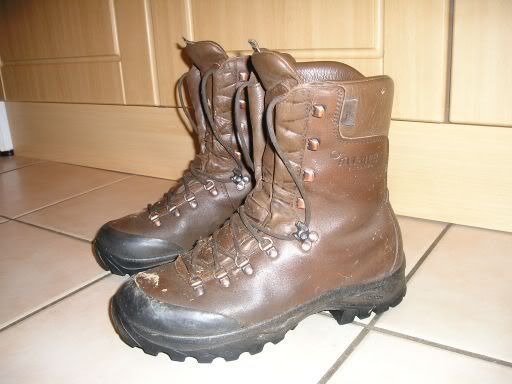 and these are the latest Gamekeeper boots out,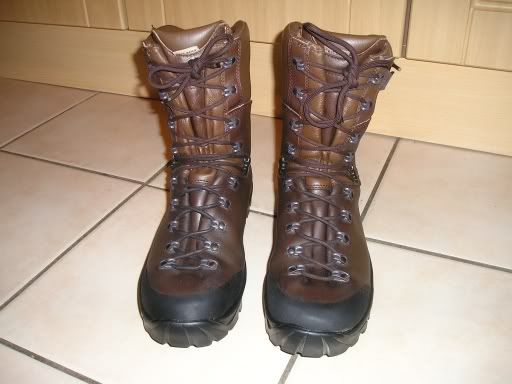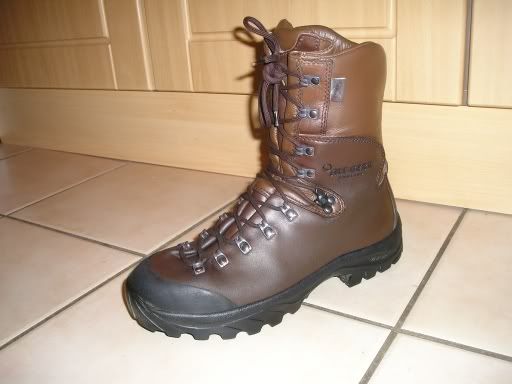 where the water came in, as you can see below more water penertrated the left boot than the right, i also put a thin pair of cotton socks on top of my normal wool ones so you can see where my feet are actually wet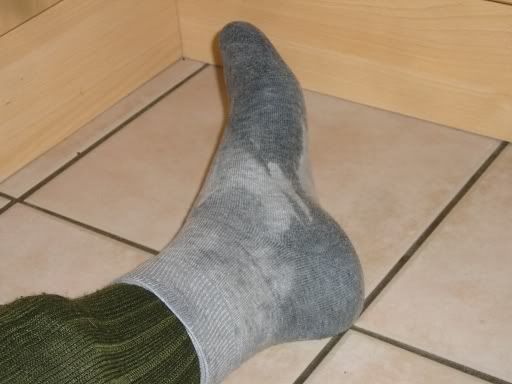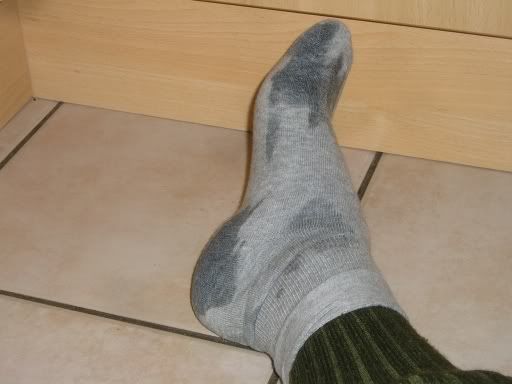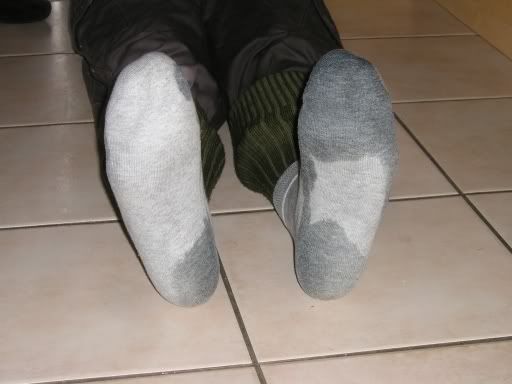 I certainly didn't expect to have problems like this when the boots in question are selling for £189.99, all other feedback i have recieved about Altberg boots has been really positive, so maybe i have been unlucky, who knows, i would have thought that water will penertrate all types of leather, so you need to have a very good quality liner in the boot to stop this happening, the leather in these boots is a full grain Swiss Galluser leather which is 4.0mm thick, with a Sympatex waterproof liner, why i also went for Altberg was because you can have virtually anything done to the boot repair wise in years to come.(if they last you that long), but you know the old saying, once bitten twice feckin shy.
They have been sent back yet again, because i am not going to put up with paying near £200 for a supposedly quality boot thats not up to it, they have paid me back eighty % of £180 which is £144, because they reckon i have had limited use of them, but at the end of the day the boots first problems started within the first 6 months, are still under 12 months old, and have major problems, i just couldn't be arsed arguing the case with them.
SINDASOX