Well the inevitable happened today.
Holly had her first skin tear from barbed wire.
Had no chance of seeing it, barbed wire along the ground completely covered with leaves in a wooded area.
Anyway I have cleaned the area with saline solution and re-read the chapter in running dog maintenance on how to deal with these.
From what I understand is should be OK to heal on it's self as it's just a small skin tear, taking 3 days to see a noticeable change and 7-10 days to start to heal and close up. Also that I need to bathe it daily with saline solution for a week then allow it to scab over. The tear isn't too long/big, just wondered what everybody else would do.
http://i1199.photobu...ff/DSCF4057.jpg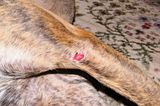 I'm happy to leave it to heal naturally, but do have access to a stabler & remover and someone with experience to do it for me. So would you staple it, as it's near a moving joint.
Cheers