Pig Hunting In New Zealand
Just got back from my hols in New Zealand,(still jet lagged!) what a fantastic country, you can catch anything you want over there no problems and theres over 8 types of deer, hares, rabbits, possums and pigs! After buying a magazine about pig hunting in Australia 2 years ago i always wanted to try it out so when we booked to go to NZ I knew this would be a great opportunity. When we were there i logged onto to google for pig hunting and found a place about 3 hours from Aukland called Lake Aniwhenua Lodge, in Murupara, north Island, spoke to a lady called Joan Ryder and sorted it in about 2 minutes, Id booked for Saturday 8th Jan.
I took my girlfriends brother Phil (who has never been hunting in any sort of way in his life!) and we arrived at the Lodge at 6am, it was an idilyic setting right on a huge lake with red deer in the garden (there own) and guest accomadation. We were greeted and had a quick coffee before we set off, our guide was there son called Josh who has been pig hunting since he was 3! and was New Zealand young hunter of the year at 14, he was now 28 so I knew we were in good hands, he had 4 smallish dogs which were cattle dog/whippet/staff/whatever else was about and they looked a bit of an odd job lot. Josh told me because of the ground we were hunting he used small dogs to work the thick forest, a big holding type dog was no use for this type of land.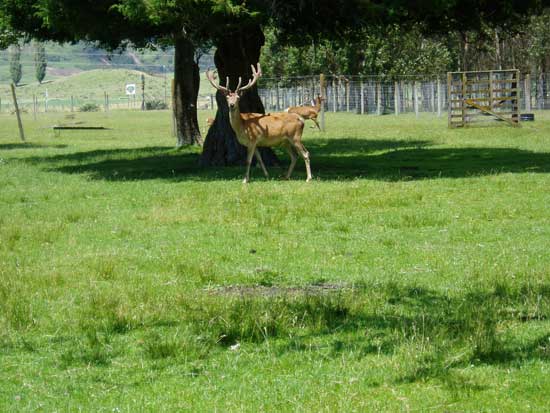 We set and drove about 40 mins to a huge forest, the dogs were sat in the back of the pick up and would jump off as and when they wanted and have a sniff about, we went to several places seeing sign of pigs but not finding any scent, then we drove into a small opening and the dogs shot off into some thick cover, we jumped out of the truck and head into the bush after them, we could hear them going away from us but also we seemed to have found a few pigs cos we could hear pigs running through the ungdergrowth then stoppping listening then off again. There were pig track and droppings everywere so we knew we were on!
Me and Phil started following josh who was like a possessed man tearing through the bush, he reminded me of rambo with his gun on his back and huge knife on his waiste belt? We were just about keeping up with him as we went up a hill ( felt like a mountain!) through the thick bush then he stopped to listen for the dogs which could have been anywere by now, then he just carried on down a steep mountain side then we stopped and he said Theyve got a pig! and its a good size!
I couldn't hear a thing and thought how the feck do you know that?? At a quicker pace he was gone and I was trying to follow him as best I could with phil further behind me, my adrenalin was pumping and the sweat was pouring out of me, as I came to the bottom of the mountain there was a river!, "were are you josh" I shouted, "cross the river mate just jump in its not very deep" so I jumped in up to my waist in water I was greatful of the chance to cool down, out the other side I could hear the dogs baying faintly in the distance! I started to move quicker up this other hill/mountain and although feeling it a bit just kept going. Josh was shouting very rough directions but I could hear the dogs so I headed for them, at the top of the mountain I came to a steep ridge and almost fell off it but i could hear the dogs baying louder so I slightly doubled back and went left handed then down the steep mountain side mainly on my arse!
When I arrived all for dogs were bailing this big black boar and josh was stood there very calm, my heart was pounding and I quickly got my Video camera out, josh calmly said "do you wanna stick mate?" "no i want to get on tape, il just watch you do it" so Josh grabbed the Pig by the back legs and flipped it onto its back and stuck it with his knife once in the chest and that was that! About 5 minutes later we could here some faint yells and it was phil still trying to catch up, when he aririves he was knackered but buzzing and was amazed to see this big boar laying there, cooor wow were his first words! after a breather and some pictures Josh gutted the pig and presented me with the joyful news now we have to carry it back! (after a 45 minute adrennilin pumped hunt up and down mountains and across rivers I gave him a look of your having a laugh arent you!)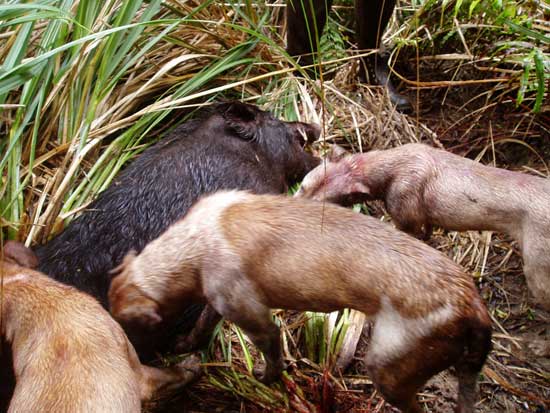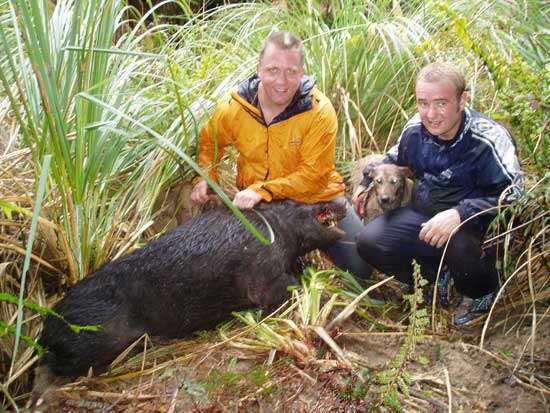 I didnt have a clue where we were but luckily Josh seemed to know every tree and river bend so we heaved the pig on my back and off we set, this was the most exausting thing I have ever endured carrying a 130lb pig up a steep mountain side when you already knackered! we took about an hour and a half to get the pig to this openening where josh said he could bring the truck and pick us up, so he dissappeared in the bush with dogs in toe as me and phil collapsed recovering buzzing and talking about the experience step by step.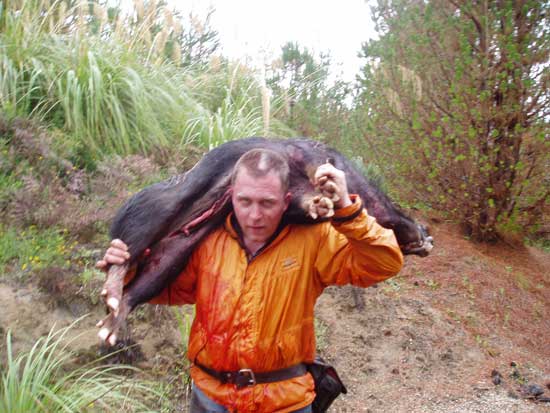 Josh arrived about an hour later and we had a well deserved pack lunch and headed for home very tired and excited, back at the lodge we were greeted by joshes parents Joan and Graeme, we weighed the pig 130lb, Josh skinned it, we had a quick shower and saw some amazing pictures of josh and his parents hunting, then said our goodbyes and headed back to Aukland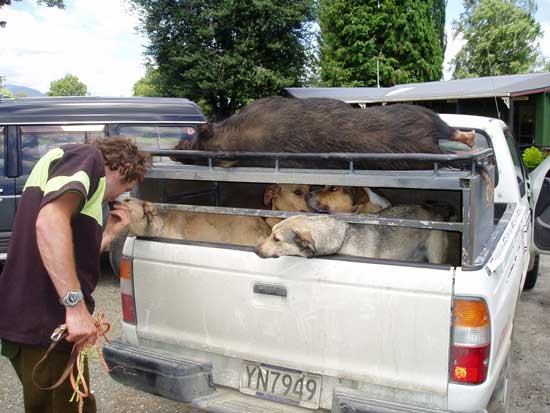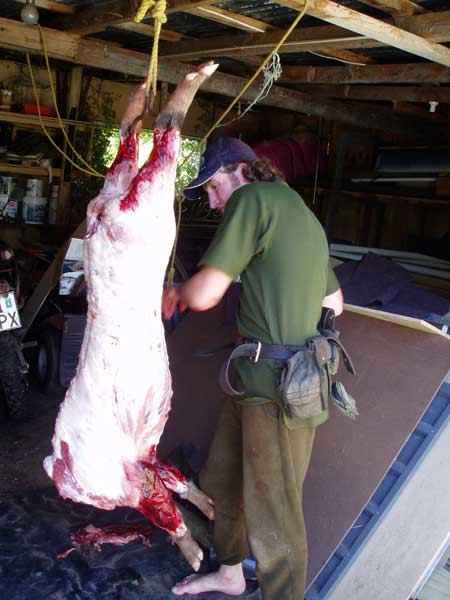 The whole day was an amazing experience with some amazing people, josh was the most knowledgeable person I have ever met when it comes to hunting, his family were great and Phil who is a student now cant wait to come coursing and lamping!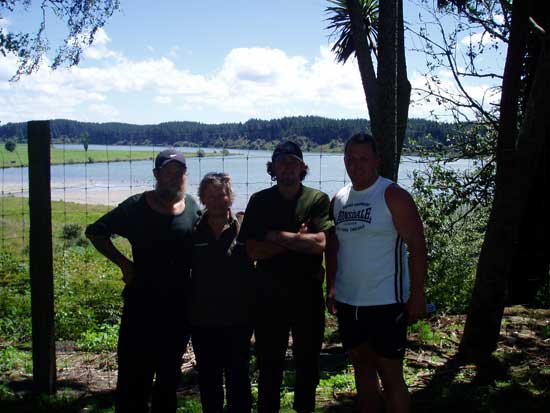 We had the boar butchered and the sausages and chops tasted great!