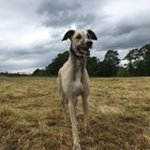 Recently Browsing

0 members

No registered users viewing this page.

Similar Content

By Dolden1

Hi All, 
My Whippet x Greyhound is about 18months old now. She is a great family pet and a natural at catching rabbits and even one muntjac (along with my border terrier). If I had more knowledge id love to use her for rabbits & lamping. 
The only downside to her is that she is very fussy about what she eats... I've tried meat, rice veg and meat/fish, biscuits, chicken skins and she still won't put any weight on. She rarely finishes a meal, and doesn't often eat in the mornings. I don't leave food down all day either.
I'm a not concerned that she is unhealthy and it doesn't bother me too much, but I was wondering if anyone has experienced anything similar or has any tips on fattening up a running dog?




By Newrunner

Hi all,
I'm new to Hunting life website and to the forums. 
I have just got a greyhound/deerhound pup (12 weeks old now) and just moved area. I am now in south Yorkshire and I'm looking for some permission or even better someone to have a mooch around with to start the pup off on some rabbits this season.
 
Anyone can help or interested drop me a message.
 
Thanks


By B Woodsford

Iv got a kelpie bull greyhound he's 11 months old done all the training with him and thought he was ready to start lamping. I took him out to watch a few times end of last season and took him to watch again more recent before letting him off. His recall is normally spot on even in the day time if he is chasing a rabbit and I call him back he comes back. But when I take him out lamping as soon as he misses the rabbit his nose goes straight to the ground and there is no getting him back. Been told it's called hunting up. Any ideas to fix it? Iv been told it might be the kelpie in him as they can be head strong but Iv not really had any other problems with him. One person told me to just keep letting him do it  till the penny drops but don't want him to get bad habits. At the minute I turn my back on him and walk out the field when he jumps the gate I put him back on the slip. or if I stand still for 5-10 min he comes back, but then all the rabbits are gone.