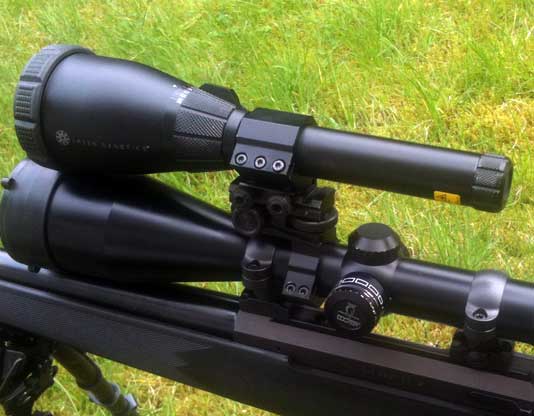 Laser Genetics ND3X50 Review
I've been considering different ways to use a gun mounted light on my .243 for some time, so I could lamp on my own.
My friend used a Lightforce gun mount for a bit, but it proved to be a nightmare as you have to continually adjust it for distance – ie, angle between the light & scope. I'll come back to this issue later.
I also flirted with some of the Cree LED lights, but they don't seem to have decent illumination at range, plus the battery life isn't really great – remember its foxes this is for, so distance is important. I also considered an NV set-up, but having looked at what was available, I decided that unless it was Gen 2> then it wouldn't be feasible.
This led me to consider a laser illuminator, and of course there is only one on the market that diffuses the beam for use with a scope. For info, I use a Tikka .243, with T8 moderator, Harris Bipod, & a Docter illuminated, 3-12x56 scope, (which incidentally is superb in low light conditions (see picture)
I struggled to get any real objective information on the Laser Genetics-ND3x50, therefore in the absence of any real reviews on the ND3X50 lasers and after looking at one in a well known mail order firm, I decided to take the plunge and buy one.
Before I bought it, I managed to compare it to a Pulsar Gen+1 unit, and the ND3X50 seemed to be much better, albeit at close range.
So having used it now for a few weeks, and several outings to foxes here's my verdict for the ND3X50:
Overall it's a well engineered piece of kit, its robust and watertight. It comes supplied with 2 batteries, which as yet haven't run out ! So the battery life is simply awesome ! I've bought 2 spare rechargeable batteries that I keep in my pocket for when the ones supplied decide to peg out.
The unit comes with a variation of mounts (Weaver type), for use on top of a scope, binoculars or tripod. The adjustable mount for the scope is simple not good enough ! It wobbles about and is easily knocked of the cross hair centre line. Having said that once you get used to it, it's not quite so bad, but it definitely needs a re-design.
To use the laser, you have to adjust the centre point of the beam to coincide with the cross hair centre of the scope. The really good news here is, that you don't need to continually adjust the beam, as the angle between the laser and scope is minimal, particularly so in my set-up, as the scope objective lens is 56mm. Here are some pictures of my set up:
The down side is, that when you screw down the diffuser to a smaller beam for increased range, the scope actually picks up the laser track. Therefore, if you are trying to pin point something at range, with beam reduced, you can get a disturbing reflection of the beam in the scope – less than ideal, and actually blows out the distance performance figures quoted by Laser Genetics/BSA.
On the very positive side, I'd suggest that up to 150Yds, its brilliant ! and performs good up to about 250Yds. Greater distances than say 250Yds really requires the beam to be narrowed, and then you get this annoying 'tracking' from the beam. However, given that I'm not shooting foxes beyond this distance, overall it works well.
The <150Yds range is where it performs best, and unless you buy Gen 2 or 3 NV, I really can't see it being bettered. It's certainly hugely better than the Pulsar Gen1+ NV, which is in the same price bracket.
I also notice it works particularly well in dusk conditions. Last night I was watching 4 Does & a Buck where I shoot, and did some experimentation just before it was totally dark. I'd estimate the buck to be around 130-Yds, and with the scope on about 8 mag, I could pick on minute details on its head & coat. All I could see without the laser on was the Bucks outline, so quite a positive point. It doesn't seem to disturb animals quite the same as a standard lamp.
Low temperature issues: Cant comment other than the only difference between the standard ND3X50 & the sub zero version is an insulated battery compartment. Scott country reckon they've had the unit in their freezer for an hour to test it, and it still worked fine. Don't know if this is a red herring, but I can't really make a personal comment yet. I also understand that Scott Country will soon be supplying a neoprene cover for the standard ND3X50 battery section.
The way I intend using this for foxes is, use the Lightforce for calling, and switch to the laser for final approach…ie from 250Yds in.
That all I can think of for now, so here's a quick pro & con summary:
For:
• Works brilliantly up to 150Yds, and yes it does look like NV at this range !
• Works ok up to 250Yds
• Much better than Gen 1+NV, but I can't compare with Gen 2 or 3, however there is a huge price differential
• Battery life is awesome
• Looks robust & watertight
• Easy beam adjustment
• It's lightweight.
Against
• The scope mount is really bad, it moves all over the place, loses centre and takes ages to fit & remove. It ruins the whole unit. (there's an MS1 torch mount available from another company, but its £45) here's a video of the mount movement:
http://img3.imagesha...g3/2839/pkp.mp4
• If you look closely at the allen screws in the mount, you can just see that both the back allen screws are slightly higher than the rest. They both bottomed before they tightened up, so I had to take about 2mm of the length. But they still sit higher and are quite tight. Pretty poor quality considering the cost. Six allen screws to secure this is just way over the top. Its begging for a quick release mount.
• When the beam is narrowed for range, you can get this annoying 'tracking' in the scope, which surprisingly isn't mentioned in the literature – perhaps I've missed something here, but it really does affect using the laser with a scope at ranges beyond say 250Yds
• It will work beyond 250Yds, but with a very small beam. However, because of this annoying 'tracking effect', its just impractical to use beyond 250Yds.
• Can't be used as a lamp for searching fields with the naked eye, unless it's really close in. Its only for use with a scope.
• Cost: at £325, it's quite a big investment. I'd have thought around £200 would been bore realistic, but I guess that's up to individuals on whether they wish to pay that much.
Please remember, these are my personal opinions, where I've tried to be as objective as I can. I hope it helps to inform the debate. Sorry about picture quality, its from my iPhone !
Am I happy I bought it? Yes, mostly, and I would recommend it. There are a few design flaws and over-ambitious claims about its range made in the manufacturers literature, but overall, and within its range constraints, its a useful tool for night work.
I hope this helps add to the debate, or anyone thinking about purchasing one.