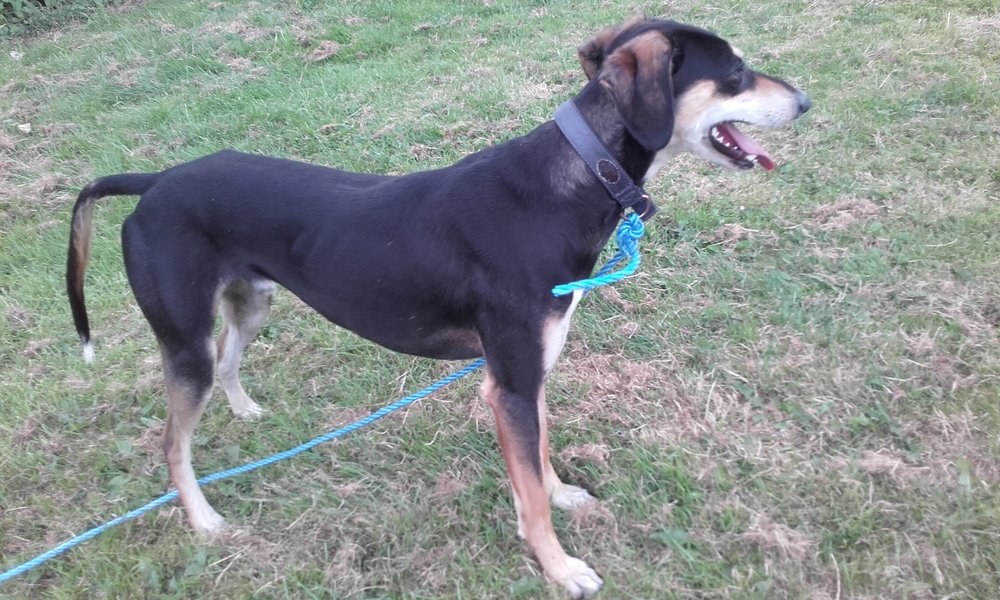 With this being my first foray into long dogs and also because it gives me a record of progress, if any and failures. I thought I would start a blog about our journey. Combing my love of field sports and my love of writing also seems like a perfect idea so with that having been said I would like to welcome you all to the journey.
Merlin is my first ever long dog. His background will never be fully known as he is a rescue dog but we do no he is a lurcher with definite Saluki in him. He weighs just 23kg and needs to gain weight but other than that the vet has given him a clean bill of health despite his poor background and uncertain journey to where he now finds himself. As for me, this reminds me a little of the novel H is for Hawk whereby the author worked through her grief through her love of falconry. It is a lovely story and hits a chord with me as I am recently bereaved of my father. I say recent, he died just over a year ago but since we rescued our first dog three moths ago, I've found myself missing him more and more. He taught me so much and instilled a love of nature and field sports in me that now I keep thinking that if only he was here.
Dad and I bred and worked English Springer Spaniels. We had four at one point, of which one (Gina) was my own. She was more than a working dog she was my field test and scurry dog as well and for a novice dog and owner we did really well. She won a couple local events and she placed well in a couple others but that was many years ago and as my disability has taken hold and now I have returned to study everything seems so different.
Enter Merlin. He was found dumped and we took him in on July 10th 2016. He had been in the kennels for four weeks after being rescued from the streets. His age is approximately two, the vet said he could be anywhere between that and five but as his behavior is still quite juvenile it is likely he is the younger end of the spectrum.
So, here I am 42 yrs of age. A student nurse and owner of a rescue long dog. So many new starts and yet somethings feel familiar. To be out in the countryside and just sink back into old ways, reading the rabbit runs, recalling the types of grasses and learning how to just observe nature again.
We have a long journey ahead of us but as I am having a new start so is Merlin and with it a safe secure home where he will be loved and learn how to live a life he was born to.
Who knows what pathway this will take but whatever the outcome success or failure Merlin and I will walk it together.