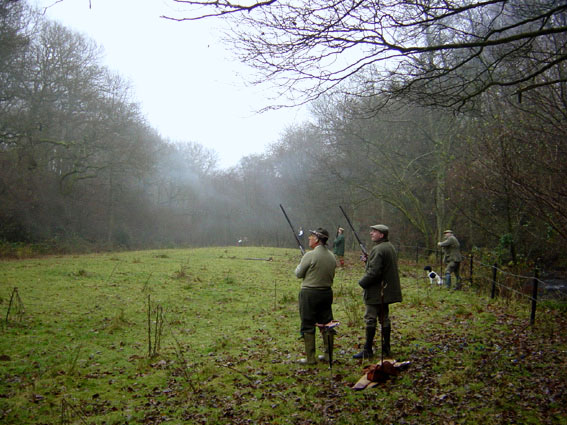 Note to reader: The article below was written in the month following the shootings in West Cumbria. This note is written as the Home Office Select Committee is about to publish its recommendations for future firearms legislation which, ultimately, will effect everything we do in the shooting field involving the ownership and use of a firearm. Rumour has it that the report was due to be published yesterday, Thursday 9th June, but that this was delayed in the interests of amending some of the reports proposals. It should concern all of us that this delay has in the first place occured and that any ammendment made will not be the subject of prior scrutiny by our shooting bodies.
I have left the article as it was originally written, so some of the references made within it may be dated slightly. This I have purposely done as I hope it is quite interesting to view it in this context in relation to the consultation process that the HOSC and the subsequent discussion within our own sporting press. Comments will be gratefully received.
A BLUE PRINT FOR THE FUTURE OF SHOOTING?
As Parliament gathers to debate gun law, we may pause to consider the position of gun owners – between a rock and a hard place springs to mind. In preparing to enter yet another review of legislation that will govern our very existence as a sport, are we really in a position to influence much at all?
Popular media sets the whole process in motion; opinion is immediate, often rash to judgement and rarely informed. Either way the spectre of political expediency rears its head as a likely form of legislative action - inevitably damaging to gun owners. The uneasy recognition of a Home Office hell bent on gradually throttling numbers of guns held in private hands looms large again. So, after nearly a quarter century of reacting to threat, just what has changed?
As a community we are entirely vulnerable to the vicissitudes of politicians, news media and a number of organised groups well versed in opportunism fuelled by public misinformation. The only model of defence we offer is passive - an imperfect strategy, reliant on a 'wait and see' philosophy before any response is considered. Things simply have to change. There is no time at all, and this will inevitably represent a period of challenge for the status quo in shooting and shooting sports.
In his article (June 23rd) the Countryside Alliance's Tim Bonner opens the door - referring to past attempts to defend gun ownership, he states: 'the shooting community did itself no favours by being inflexible in considering possible legislative response.' He goes further in suggesting the shooting community, ' should work with the Government and relevant authorities to get a system that protects both the public and legitimate gun ownership.' That some should consider these words with consternation is little surprise, but these comments do serve to ignite a call for more proactive thinking.
It is to licensing issues that Government will turn, in particular assessing suitability to possess a shotgun or rifle, mental fitness and, in all probability, demonstrating 'good reason' to keep and use guns. In response, shooting must embrace significant vision for its future. Importantly it must seek to adopt a radical new structure that aims to meet licensing challenges at the level of the individual, whilst at the same time promoting a framework that makes shooting accessible to new entrants and robust to external scrutiny.
Three distinct areas best sum up this strategy: Access, Community and Training. Each area would be designed to respond principally to the pressures resultant of a tough future licensing system. In the longer term all areas contribute to a real future for shooting sports.
Access to shooting is vital for those within the sport as well as those wishing to make a start. To a sport that must grow in order to maintain an economic and political foothold, access to shooting resources is crucial. Yet for many access to sport remains tenuous: sometimes difficult for those already established and often impossible for new entrants with few contacts. Remember, should shotguns be elevated to Part 1 status under any new licensing provision, 'good reason' will need to be established by the applicant in order to secure permission to own sporting firearms and, just as importantly, for that permission to be maintained.
Many shooters admit to a sense of being marginalized by the licensing system. A blanket 'good reason' clause would result in this being felt all too keenly by many more shooters should police exercise this as a potent form of pressure. Isolated as individuals, it is easy to feel picked on to the point of chucking it all in. Shooting sports should therefore create an initiative to build a sense of community amongst shooters. This would mean a more inclusive and resilient structure to the sport rather than the factionalised and somewhat 'tribal' system currently exhibited.
An approved club structure should be encouraged, based on access to sporting resources. Whether target or live quarry based, clubs would exist as an organisational infrastructure through which shooting is administered. There are already piecemeal models of this kind: wildfowling clubs, game shooting syndicates, clay and target shooting clubs, deer management and pest control groups. Representative organisations would help in club set-up and in forming a constitutional framework. Clubs would encourage standards of safety and behaviour amongst members and secretariats a link between members and police licensing authorities.
Home Office, Police and Local planning authorities would have a point of reference in the form of clubs. A collective interest in shooting grounds and ranges would help avoid the ludicrous reality of established facilities being closed in spite of high demand. It is a moot point, but the more ranges and grounds are subjected to restriction then the fewer facilities remain available in order to maintain opportunity for practice and advice. Shooting, then, is further marginalized as a sporting activity and arguably less safe as a result. All stakeholders have an interest in this not being the case – in particular the police and government.
At the CLA game fair in 2009 educational awarding body Lantra Awards formally launched a suite of sporting firearms training courses. Designed for both rifle and shotgun skills, courses are offered as a series of certificated Technical Awards. Presenting the launch, Lantra Awards managing director Wayne Grills highlighted the importance of offering a verifiable structure to voluntary firearms training: 'The new Awards are designed to develop skills and record evidence of achievement,' he said. 'All Awards are quality assured and anyone who successfully completes a course will be issued with a certificate of training.'
The whole subject of training related to firearms is regularly confused with compulsory testing. Lantra Awards emphasised that its training initiative differs wholly from the narrowness of unfettered proficiency based testing. For shooting the most apparent danger associated with testing being the readiness with which a compulsory test could be manipulated to present a barrier to owning firearms.
Training would offer opportunity to those wishing to be involved: an access point to shooting sports, as well as a means of proving, progressing or updating existing firearms skills. This form of inclusiveness sits easily within an organised club structure; with club facilities utilised as training venues and experienced club members offering support on courses delivered by qualified, independent trainers.
The Lantra Awards' programme was designed to offer anyone with an interest a way of becoming involved in guiding and delivering firearms training. Importantly, this training concept is purposely independent from any vested or controlling interest - a point emphasised during the presentation. In a nutshell, then, this may introduce the genesis of a training model: a means of encouraging shooting standards, voluntarily, via a club network, with everyone able to buy into a system that is quality assured and valid.
It is likely that a review of legislation will recommend more stringent firearms regulations as a result of the West Cumbria rampage. Parliament will demand greater certainty in terms of public safety related to legally held firearms. In these circumstances police checks will be more rigorous, and will place even greater pressure on each individual applicant. Shooting must now respond in a positive manner promoting its own 'blue print' for the future of the sport.
Radical as it may sound, the basis for that blue print is already to hand: a way of ensuring sufficient access to sport, reorganising on the basis of a club structure and building on a voluntary, independent training foundation that is acceptable to all. The message to our own organisations must also be clear: grasp this nettle now, and get shooting sports into a position of our own design where we have something to defend.
MIKE SMITH 10-06-2011